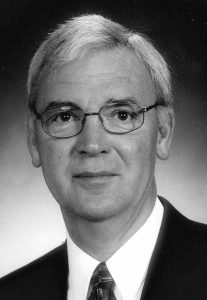 Find a sport—any sport—and chances are Paul Davidson has been involved in it. Not only did he participate and coach on many different courts, courses, and rinks, Davidson and his teams often came out on the winning end.
"He was into sports right from the time he was four years of age, that was the love of his life, that and history," said Davidson's wife Cathy. "He played every sport possible—at least he tried every sport."
An all-round athlete, Davidson garnered championship titles in basketball, lacrosse, hockey, and curling, but is most recognized for being part of the mixed pairs National and Provincial lawn bowling championships, with partner Muriel LaPlante. Davidson and LaPlante teamed up to win the Ontario Lawn Bowling Association 2002 Mixed Pairs championship. They went on to win the provincial silver medal in 2004 and the bronze in 2011.
Though Paul was born in Kingston, the Davidsons relocated to Simcoe when he was 13. By that point, his love of competition—on the basketball court especially—was at its peak. As was the case with basketball, Davidson began lawn bowling at a young age and that early start paid off in later years. He also gave back to the sport, conducting clinics, coordinating tournaments, supporting learn-to-bowl sessions, and acting as a volunteer groundskeeper at the Simcoe Lawn Bowling Club.
Davidson became a teacher at Delhi Public School, and got involved in coaching both there and at Simcoe Composite School. For over 35 years, he coached athletes in a variety of sports including volleyball, basketball, cross country, track and field, and soccer.  "I think that came with school when he started teaching," Davidson said of her husband's coaching career. "One of the things he loved best about teaching was the fact that he could coach."
It wasn't out of the ordinary for Davidson to coach during lunchtime, head home for a quick bite after school and then go to the gym or rink to participate with his friends.
"In any game he played [Paul] was very analytical. He knew the games well and had a lot of good advice," Cathy said. "Anybody who played for him really loved him and appreciated all that he did for them. He tried to get the best out of everybody and I think he was very fair with everyone as far as playing time was concerned."
Davidson served as a guide and coach for his brother-in-law Mike Vrooman, who climbed the ranks in visually impaired golf and curling. Paul also served on the Board of Directors of the Ontario Visually Impaired Golfers Association from 2008 to 2010.