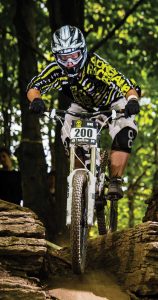 Paul Meiklejohn was raised in Norfolk County and started his cycling career at the age of 12. At the time of his induction, Paul had been competing successfully in the sport of Downhill Mountain Bike Racing for well over 20 years.
Paul received provincial honours in BMX (Bicycle Motocross), and in Cross Country and Downhill Mountain Bike Racing.  He won his first Provincial Championship in BMX at the age of 14 and went on to win a Provincial Championship in Cross Country Mountain Bike racing in 2000.
Over the years, Paul transitioned into Downhill Mountain Bike Racing and has competed provincially, nationally, and internationally. Achievements during his career include 16 Ontario Cup wins, two Canada Cup wins, and Silver at the Canadian National Championships. A five-time Provincial Champion, Paul raced a perfect season in 2002, going six-for-six in Ontario wins. He was also the first in Ontario to receive a Pro-Elite Status (pro-licence) as a Master's age rider.
Paul was a founding member of the Turkey Point Mountain Bike Club, formed in 2011.
Paul was educated in Norfolk County and now often speaks to students of the area, attempting to raise awareness of the athletic opportunities available, not just in cycling, but all sports.  In 2012, Paul was nominated by fellow riders for the "Ontario Cup Downhill Best Masters' Rider" award.
Paul's exceptional talent has developed through his desire and sincere effort.  Norfolk County has not always been the best practice venue for Mountain Biking, especially of the downhill type.  Riders living in ski resort areas, hills and mountains would seem to have more advantages for this endeavour.
Paul hopes to instill his passion for cycling and sports in general while setting an example as he sets his sights on local and tourist-drawing activities while continuing to be a significant and generous contributor to trail cycling here in Norfolk County.