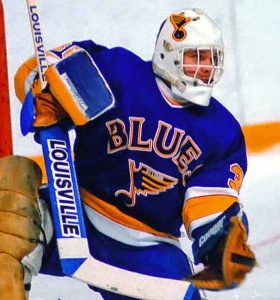 Port Dover native Rick Wamsley realized his boyhood dream of goaltending in the National Hockey League.
Rick played minor hockey in Port Dover in the early 1970s, then midget hockey for Simcoe in 1975-76, before joining the Hamilton Finncups Junior A team in 1977.
Rick was drafted by the Montreal Canadiens in 1979 and assigned to their Nova Scotia American Hockey League team. In 1980, Rick was called up to the NHL. The following season, Rick and fellow Canadiens' goaltender Denis Heron won the William M. Jennings Trophy for the lowest goals against average during the NHL season.
Rick founded the Rick Wamsley Golf Classic in 1982 to raise funds for Norfolk County charities.
In 1984, Rick was traded to the St. Louis Blues, who in turn traded him to the Calgary Flames. Five years later, in 1989, Rick's Calgary Flames won the Stanley Cup. "That was the highlight of my career," says Wamsley. He and Mike Vernon shared goaltending duties for the Flames that year.
In 1992, the Flames traded Rick to the Toronto Maple Leafs, where he retired during the 1992-93 season with a 12-year career record of 204-121-46 and a 3.34 goals-against average.
For the following six years, Rick was an assistant coach in the Leafs organization under Pat Burns. Rick joined the 2000 NHL expansion team Columbus Blue Jackets as goaltending coach and scout.
As other Norfolk County natives earned spots in the NHL, Rick invited them to join him in his charitable efforts, renaming the organization the Norfolk Pros Foundation.
The Foundation Rick started has raised thousands of dollars for local youth programs and education. The Port Dover Arena Fund, Norfolk General Hospital, Camp Trillium, and the Norfolk United Way have all benefitted, as has the community at large.