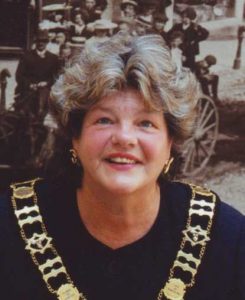 Many folks know Rita (Martin) Kalmbach as the first female Mayor for the City of Nanticoke and the amalgamated Norfolk County, with more than twenty years of municipal political service. However, Ms. Kalmbach has also enjoyed a celebrated sports life as athlete, official, coach and builder.
In her youth, Rita (Martin) Kalmbach was a force to be reckoned with on a variety of sports fields. Rita began to make her mark in sports in 1967 as a member of the Provincial Championship-winning Simcoe Stars Ladies Fastball team. She followed that up in 1971 as a member of another Ontario Championship team—the Waterford Motts Canadettes.
As a teenager, Rita had a passion to play sports but had to balance it out with work in the fields and factories to finance her dream of attending university to pursue a degree in Physical Education. An unlikely job she took on was being one of the first female umpires in the Southern Counties Men's fastball league.
According to Rita, "I loved playing ball and used to watch several of the men's teams compete. The umpire needed to have good skills for making calls and rulings on various situations. I thought, 'I'm that type of person. I can do that job!' " Rita concludes it was an incredible learning experience and she was mentored by one of the best, Eddie O'Donnell, who at the time was Umpire Chief of Southern Counties. While umpiring the "guys", for three seasons, she learned how to make quick decisions and handle people who were upset.
Rita took up hockey for awhile in the 1970's playing centre for the Brant Blues as well as the Waterford ladies team. Eventually she found a new passion in golf. Here she has excelled as well. In 2003 she won the Women's Ontario Long Drive Championship, Senior Division, with a drive of 230 yards. Rita demonstrated her all-round golf skills when she won the Norfolk Golf and Country Club 9-Hole Championship in both 2007 and 2008. She enjoys the organizational end of the game as well, and in 2010 served as Golf Captain for the ladies' division at the Norfolk Club, organizing tournaments, weekly league play and completing seasonal scoring.
Rita is also accomplished in the sport of Judo, holding a brown belt.
Prior to her career in municipal politics, Rita was a teacher with a Physical Education Specialist Certificate. She volunteered to coach softball, basketball, volleyball, soccer, track and field, and gymnastics and took many school teams to championships. Rita also was very involved in writing curriculum resources for physical education and political science. She conducted leadership training sessions for physical education staffs and mentored many teachers.
As a community volunteer, the list of organizations she was involved with include the Children's Aid Society, Haldimand-Norfolk Women's Shelter, Norfolk General Hospital, Dover Mills Heritage Association, Festival Country, the Long Point Foundation and Bird Studies Canada. For seventeen years she served as the publicity director for the Port Dover Summer Festival. All these endeavours and others not mentioned led to Rita being named a "Notable of Norfolk". In 2010, she was named Citizen of the Year by the Port Dover Board of Trade.