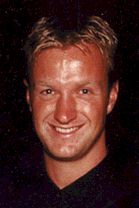 As the number one defenceman and captain of the Los Angeles Kings, Rob established himself as a punishing body checker with a devastating shot. His abundant offensive talents and superb defensive skills earned him accolades from his peers, his admiring fans and the hockey experts.
Rob was drafted by the Kings in 1990 out of Bowling Green University where he teamed with Nelson Emerson to fashion an outstanding college career. During the 1997-98 hockey season Rob excelled on the blue line for the Los Angeles Kings, so much so that he was awarded the Norris Trophy as the best defenceman in the NHL.
Rob's hockey career began with the Simcoe Minor Hockey Association. From those beginnings, he rose through the hockey ranks. The Los Angeles Kings selected him with their fourth draft pick, 70th overall. Rob jumped directly from Bowling Green to the National Hockey League, where he excelled.
Rob was a member of the all-rookie team in 1991 and played in his first All-Star game in 1994, making the All Star team in successive years after that. At the time of his induction, he'd earned two gold medals from World Cup competition. Rob was judged the best defenceman at the 1998 Winter Olympics in Nagano, Japan, bringing great honour to himself, the Kings, his family and the Town of Simcoe.
Though he attained stardom in the NHL, Rob remained loyal and dedicated to worthy causes in his home town. Although a resident of Los Angeles at the time of his induction, Rob often returned to Simcoe, his birthplace, in the off season to visit his family and friends and to aid local charitable organizations through his participation in fund-raising activities. Perhaps the most notable of these was the Norfolk Pros, whose golf tournament has provided financial support to numerous recipients.