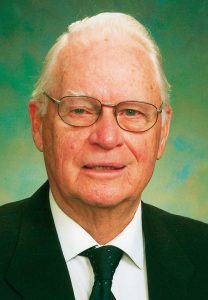 Bob Laning's involvement in fastball as a player, coach and sponsor had spanned nearly 60 years at the time of his induction.
Bob started playing in the Townsend Twi-light League at the age of 13 and continued his involvement in the sport as a coach and then a sponsor until the early 1990s.
As a player, he played shortstop for the Townsend Stars, who brought this area its first provincial men's softball championship when the only players who wore gloves were the catcher and the first baseman. Bob's fielding average as a "bare-handed" shortstop was a remarkable .914. He also excelled as a pitcher.
Bob's triumphs are many and varied. As a player and coach, he can claim the following:
1947 Townsend All Stars Intermediate C Ontario Champions (Norfolk's first OASA Championship)
1958 formed the Villa Nova Milk Producers Co-Op fastball team, and served as player-coach
1961 Villa Nova were Ontario Intermediate B Champions
1962 Ontario Intermediate A Champions
1963 Ontario Senior B Champions
As a sponsor, he can add the following successes:
1971 formed, sponsored, and coached Waterford Intermediate Fastball team
1984 Midget OASA Champions
1986 Ontario Open A Fastball Champions
1993 OASA Intermediate Men's Fastball Champions and represented Ontario at the Eastern Canadian Championships in Nova Scotia, where they won the bronze medal
Bob's skills and participation went well beyond the ball diamond.
During his illustrious career, Bob refereed over 800 basketball games in the Brantford and District Association as well as finals in CWOSSA and at the University of Guelph. From 1971-76 he sponsored the Laning Lancers Senior Men's Basketball Team.
In 1984 Bob was awarded the Ontario Bicentennial medal for his outstanding contribution to his community. Bob was also named Waterford's "Citizen of the Year" in 1990.