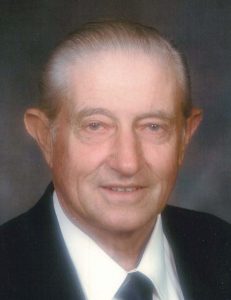 Over the 40+ years leading up to his induction, Roger Demeester did it all for Langton and Area Minor Hockey. In 1971, he was a founding member of LAMHA. Over the years, he served as President, Vice-President, House League Chairman, Referee-in-Chief, Coach, Manager, and has done everything else that needed to be done.
It is, however, his 7,000+ games as announcer, timekeeper, or official scorer that stand out as a major accomplishment. In Langton, Roger has earned the name "Father Time" and that is how he is affectionately known.
While performing all of these duties himself, he provided opportunities for high school students to get their volunteer hours while always giving them the best training they could possibly get.
Roger's announcing included Langton House League and Rep games, the local Junior D games, visiting teams from Sweden, Belgium and Japan, the Peterborough Petes Junior A team, and the Flying Fathers when they played exhibition games in Langton.
Roger's commitment to LAMHA did not go unnoticed. He was named a Life Member of LAMHA, has received a couple of OMHA Service Awards, received the Canada Celebration Olympic Award for service, was recognized by Ron McLean on CBC Hockey Night in Canada when he reached the 4,000-game level, and is an OMHA Honour Award winner.
Roger's story was submitted by LAMHA to the "Kraft Hockey Goes Online" contest where he finished in the top 10 in Ontario voting—a remarkable achievement, that if totally successful, could have brought $100,000 to LAMHA. More importantly, however, everybody learned more about the incredible man behind the microphone in the Langton Arena.
Roger truly is a living legend, an unsung hero. Blair Townsend says, "Roger realizes that hockey is more than just a game you play as a kid, it's a life skill. It's working as a team member towards a common goal. It's making life-long friends and it's developing a sense of personal accomplishment".