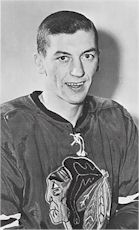 Ron "Chico" Maki once said, "I would never play for anyone else. Chicago is a super city and the Black Hawk organization always treated me well."
Maki, born in Sault Ste. Marie, moved to Simcoe in 1955 to join the Simcoe Gunners Junior "B" hockey team. He went on to star for four years with the Junior A St. Catharines Teepees. In his final year, Maki captained the Teepees to a Memorial Cup. He returned to Norfolk County following an impressive 13-year career with the NHL's Black Hawks.
With the Hawks' AHL affiliate in Buffalo, Maki won the Dudley Garrett Memorial Trophy as Rookie of the Year. In his second season with Buffalo, 1961, he was called up to the Hawks for one playoff game. His name is engraved on the Stanley Cup as a result of that game. In 1962 he became a regular with the Black Hawks.
In 954 league and playoff games, Maki collected 160 goals and added 329 assists. But it was his disciplined, hard-working style that won him the respect of his teammates and earned him a position for eight years on right wing with Bobby Hull. In the 1965-66 season, Maki teamed with Hull and Phil Esposito to form the highest-scoring line in the NHL.
In 1974, his retirement year, Maki was ranked 15th among active players in total playoff points. After 13 highly successful years in the NHL, Maki returned to Norfolk to work and live, but he didn't don the skates anymore, because that would be, in his words, "like a postman going for a walk on his day off."