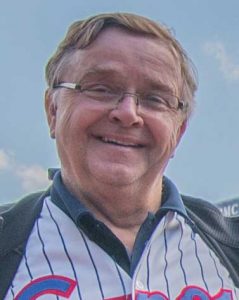 In a nomination letter, 2010 Norfolk Sports Hall inductee Terry Karges wrote that "Ron Kowalsky literally wrote Norfolk County's sports history."
Ron's influence on the local sports scene is still felt today.
Growing up with ten siblings in the 1950s, the Simcoe native gained county-wide exposure as the starting catcher for the town's first-ever Ontario Amateur Softball Association (OASA) squirt championship team in 1958. Kowalsky caught the attention of the media partly because he was so small he didn't need to crouch behind the plate, but also thanks to his tireless work ethic and never-say-die attitude. The pint-sized backstop scored the winning run in the team's final contest.
That wasn't the last Norfolk sports fans would hear of Kowalsky.
Upon graduation from Simcoe Composite School and after a year writing for the Oakville Daily Journal Record, Kowalsky returned home in 1969 to captain the Simcoe Reformer sports pages.
It was in those years Kowalsky became the go-to source for sports information in southwestern Ontario. It wasn't uncommon to see Ron making upwards to ten phone calls to get the score of a game involving two out-of-county teams just so his readers could see the most up-to-date standings. Often, he would sit through 20 fastball games during weekend tournaments in Simcoe. The job afforded him the opportunity to report on individuals like Olympian Marg MacGowan (later Hendershott) and future NHLer and Stanley Cup Champion Rick Wamsley.
Ron's pieces were known across the area as insightful, balanced, and colourful. His style would also tend to stir rivalries between local communities. Ron's passion for his work serves as an inspiration to community sports writers everywhere.
More than 50 teams won provincial championships during Ron's reign as sports editor, and in addition to telling their stories, he advocated for a number of causes. He was a driving force behind the Norfolk County Sports Hall of Recognition, then known as the Simcoe and Area Sports Hall of Recognition. Ron also campaigned for lights at Memorial Park, as well as advocating for more soccer fields and a second ice surface in Simcoe.
After leaving the sports department for news and eventually management, Ron became a multi-time provincial and national award winner. In all, his media career spanned from 1968 to 1995.