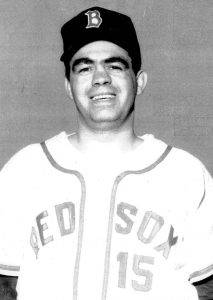 The late Wallace Bush, better known as "Spud," was well known throughout Norfolk and beyond for his 'wicked arm.' As a young teen, Spud moved to Port Dover from Hamilton and could soon be found at the local arena or at the ball park acting as bat-boy for an intermediate team and pitching softball and baseball for his minor and junior teams. In 1952 he pitched his Port Dover Junior C team to an OBA championship. In the mid-50s he began pitching for the Brantford Red Sox of the Inter-County Major Baseball League.
Locals were not the only ones to recognize Bush's abundant talent. In 1955, he signed with the Cleveland Indians and reported to Daytona Beach in 1956 for spring training.
Later in 1956 he moved to the Hamilton Red Wings of the Pennsylvania-Ontario-New York (PONY League). This Class D team was the first of five teams he played for that was affiliated with the Cincinnati Reds.
In 1957 he pitched for the Bradford/Hornell New York Red Wings, another Class D team but in the New York Pennsylvania League (NYPL).
In 1958 his strong pitching helped the Geneva New York Red Wings win the NYPL championship. Spud had an 11-5 record, pitched 145 innings, had a 3.23 ERA and was a first-team all-star.
In 1959 with the Vasalia California Red Legs in the Class C California League, he had a respectable 3.77 ERA that later in 1959 earned him a promotion to the Class B Topeka Kansas Hawks in the Illinois-Indiana-Iowa League for 14 games.
In four seasons of minor pro ball in the U.S., he pitched 400 innings, had a 28-25 record and posted a 3.96 ERA. At one time there was even a glove named after him by an American sporting goods manufacturer.
Bush came home in 1960 to play for Brantford with whom he played before heading south. In 1960 his ERA was an impressive 1.99. He was an all-star in 1960 and 1961, led the league with 126 strikeouts in 1961, had the most wins in the league (16), was the league MVP, and won two games in one night.
In addition to his three league championships and five playoff championships with the Red Sox, Bush has an OHA Intermediate B championship with Port Dover.
Bush, the big right-hander with an abundance of talent, always found time to help the youngsters from Port Dover hone their baseball skills. He was an advisor and consultant for Port Dover Minor Baseball for several years in the late 1990s and early 2000s.
Perhaps his legendary story is not as well known as it should be. It's been thousands of miles on a long and winding trail but it has earned Spud his rightful place in the Norfolk County Sports Hall of Recognition.