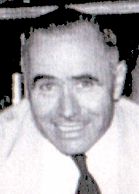 Bill Martin was credited by many for keeping baseball alive in Simcoe during the 1940s.
Many people with knowledge of the local baseball scene in the 1920s to 1940s paid glowing tribute to Martin, who was known as much for his organizational and coaching skills as his famous pipe. In a Simcoe Reformer article dated July 12, 1972, written by Eddie O'Donnell, Spud Chandler was quoted as saying, "Bill taught us sportsmanship, a desire to win and the importance of playing as a team."
O'Donnell, a Sports Hall inductee and former sports editor at the Reformer, said of Martin, "Bill promoted men's baseball in Simcoe in the 1920s and 1930s and after the war managed and organized juvenile baseball here. After his retirement, Bill was Simcoe's number one fan and probably missed very few games in Simcoe, and was known to follow many teams out of town."
Martin's influence on young athletes began in 1938 when he coached his first baseball team and continued long after his coaching and organizing ended. Martin and his wife Charlotte were regulars at all the games. In the 1972 Reformer article Jim Adams says, "I've never played a game in Simcoe in the past 15 years without seeing Bill there."
The highlight of Martin's long and distinguished career was coaching the all-Ontario Junior Baseball Team in 1949 at Maple Leaf Stadium in Toronto.
Martin, a local businessman and a former Mayor of the Town of Simcoe, passed away in 1988, but his memory and his influence will live on in the rich sport history enshrined in the Norfolk County Sports Hall of Recognition.