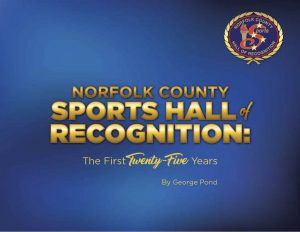 Norfolk County Sports Hall of Recognition: The First Twenty-Five Years is now available for $20 a copy, and can be purchased at the Simcoe Recreation Centre Customer Service Desk, at Firefly & Fox books in Simcoe, or at Nifty Gifty in Waterford.
The book, written by local historian and Sports Hall inductee George Pond, is a full-color softcover printed on quality paper. In addition to offering a history of the Sports Hall itself, the book includes photos and profiles of all individuals inducted to the Norfolk County Sports Hall of Recognition between 1996 and 2018, as well as photos of the 11 teams inducted into the Hall.
Lists of Reunion of Champions teams and Parade of Champions teams and individuals honored between 2003 up to 2018 are included, as are highlights of various events such as the Red Kelly Homecoming and 2009 Olympic Torch Relay.