The Norfolk County Sports Hall of Recognition is proud to announce its Class of 2022.
Shane Bergman and Shirley Shaw are the latest individuals to be announced to the Sports Hall. They will join the group of over 90 athletes, coaches, builders, and sports ambassadors already inducted into the Hall.
Shane Bergman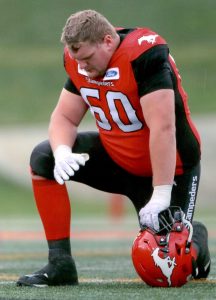 Shane Bergman spent seven seasons with the Canadian Football League's Calgary Stampeders before retiring in January, 2021. Bergman, an offensive lineman, played in 93 regular season games and 10 post-season matchups, including Grey Gup victories in 2014 and 2018. In 2019, Bergman was named to the West Division and CFL all-star rosters.
Referred to as a "technician" with effortless skill, Bergman was said to be one of those athletes who "makes the players around him better." 3 Down Nation listed him as one of the Top 100 Active CFL players in 2020.
Prior to suiting up for the Stampeders, Bergman played for the Western Ontario Mustangs. As a high school player, he helped the Waterford District High School Wolves earn the league title in 2009. 
Shirley Shaw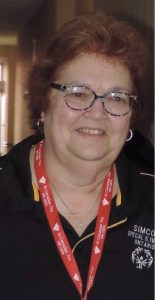 Shirley Shaw served as head coach for the Simcoe Seals swim team for Special Olympics athletes for over 20 years, seeing the numbers rise from nine swimmers to over 40 during that time. Shaw has also served as the local chair of the Simcoe Special Olympics Community Council.
Besides swimming, Shaw also introduced a number of other sports to local Special Olympics athletes, including basketball, floor hockey, snowshoeing, and golf.
In the reference letters supporting her application, Shaw was praised for her "dedication, kindness, and compassion." She was also described as a "wonderful coach and mentor," with "an amazing way with the athletes." One reference noted that "Shirley has provided an opportunity for individuals with disabilities to feel valued, accepted, and accomplished in their sport and in life."
In acknowledgement of her efforts, Shaw was named Special Olympics Ontario Female Coach of the Year in 2016. She received the Sovereign's Medal for Volunteers from the Governor General of Canada in 2017, and was named a Paul Harris Fellow by the Rotary Foundation in 2019.
Bergman and Shaw, along with any new inductees selected from nominations received in 2023, will be formally inducted into the Norfolk County Sports Hall of Recognition at an event in 2024.
The Norfolk County Sports Hall of Recognition is physically located in the Simcoe Recreation Centre, pool viewing area level. Displays of sports team photos and inductee plaques can be viewed during regular operating hours.  Additional information about events, past inductees and how to nominate individuals can be found on the Sports Hall's web site.